By Claire Toplis & Rollie the cat on Sat, 2012-03-24 03:36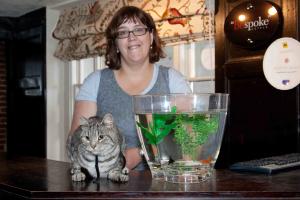 I like comping, that is no secret. I love winning things especially for school. I suppose its the thrill of the chase. Yet a little known secret is my cat actually comps with my help. And you know what? Rollie is rather good at it! He won a weekend away at a hotel thanks to Laterooms.com as part of their pet factor competition.
He's won pet food, recently a rugby shirt and even some shopping vouchers for wearing a tea cosey on his head. And the runner for this was a chicken so anything goes really!
I am grateful to ThePrizefinder for all the fabulous competitions - keep up the good work.