By Karen Francis on Tue, 2011-02-08 18:48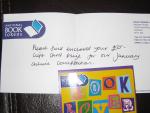 I only started using your website in the Christmas holidays when I found myself with time on my hands (now that my boys are getting older and prefer time with their friends than time with me!).
I love the way you have a separate section for Tie Breakers as the challenge of these types of competitions appeals to me. Knowing, however, how many entries each competition is likely to get, I resigned myself to the fact that it would be a long time before I would win anything. Imagine my delight then when at the beginning of February I received an e-mail to say I had won a £25 book token for saying which was my favourite book from 2010 and why! I know it is not a life-changing win, but being a single mum it will be a real luxury to treat myself to some books just for me. My eldest sons reaction was "great, I can choose myself some Chris Ryan books", but I soon put him straight as to who would be doing the choosing!