By Clarateddy on Sun, 2010-07-04 23:01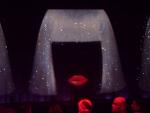 I love comping, the excitement of that winning phone call, email or letter. One Monday morning in half term this February whilst looking after a friends daughter for the day I got a call from a nice lady at Play.com telling me that I had won a trip to Paris for two and that someone would contact me to arrange this within the next couple of weeks.
When the company called an hour or so later I was still buzzing – I didn't want to tell anyone as I couldn't quite believe it was true. My husband and I enjoyed the weekend in Paris. We travelled from London Kings X by Eurostar to Gard de Nord. – The lady at Optimum Releasing had been so thoughtful, even booking seats close to the exits on both journeys.
We stayed in the Pigalle region which I have to admit I was a little wary about as I had read it was the Red Light district. It was a great location and we were able to walk to Sacre Coeur and Montmartre. The weekend went by in a whizz we vowed to visit lots of places that our children would hate (art galleries, churches etc).
The prize even included tickets to the Crazy horse show – which was certainly an experience.
Comping is so much fun and a low cost hobby. People don't understand that they could have as much luck if only they entered the competitions in the first place.