By Carla addiscott on Mon, 2011-10-31 12:16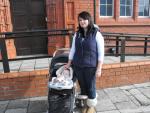 Having decided not to return to work after having a baby, a friend suggested I start entering competitions. I started using ThePrizeFinder.com and quickley started winning. It started with DVD's, T-shirts, sweets, tins of beans and even a tomato sauce dispencer. I then won tickets to see LMFAO and more recently, the Artic monkeys.
The best thing I've won so far is the face of a major advertising campaign. I will be in womans magazines and have already had my story published in a local newspaper. I'm having a photo shoot in London early next year and I'm so exited, having never done anything like this before.
I would encourage people to enter comps, even the smallest win is a fabulous feeling and if I can win then anyone can!