By Sandra on Tue, 2010-02-23 17:51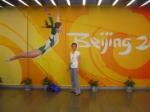 I have won some fantastic prizes over the last few years and a number thanks to ThePrizeFinder.com website. I've been really lucky and over the last 18 months have averaged a win nearly every week! My wins range from suntan lotion to 5 holidays. The holidays have been amazing and my husband and I've had fantastic trips, with a visit to the Harry Potter Film Studio and 2 nights in a 4* hotel in London.



We went to the 2008 Olympic games and 3 nights in a 5* Hotel in Beijing and we also had a 10 day holiday to Egypt including a 4 day cruise on the Nile. 2010 is another great year for us. So far, this month I've won:- A 5 nights holiday for 2, staying in a luxury suite at the Hilton Hotel, Las Vegas, £100 Zavvi.com voucher, £170 Tennis racquet, tickets to Gulliver's Land, Children's face painting pack. Comping is such a great hobby and has given me and the family the chance to experience some wonderful things. All for the cost of a bit of my time.