By Alice Evans on Thu, 2011-04-28 18:32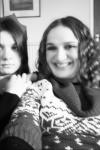 Since the start of the year I have won soooooo much thanks to ThePrizeFinder! I won £1000 in a design comp, an iPad! (I never even thought I would be able to own one of those!) and an iPhone! I also won two beauty gift sets (Simple and Maybelline).
I've won lots of smaller prizes:
Rimmel nail varnish, mascara, concealer
Dozens of hair care products (including Aussie, Pantene, Herbal essences, Tigi
and lots of other beauty goodies...!
Thanks again and good luck to everyone! xx :)