By Laura Gill on Tue, 2012-03-20 12:42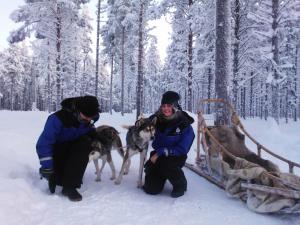 I started comping in June last year, and after a few months of flailing around entering whatever I could get my hands on, I'm now a bit more selective with what I enter - and my first stop to find creative and fun competitions is always theprizefinder's 'Skill-based' section, and SuperLuckyDi's blog!
Over the last few months I've seen my biggest and most exciting wins. In February, I flew off to Arctic Finland courtesy of Windows Phone UK with my boyfriend Andrew to stay in a hotel made of snow, drive a husky sleigh and drink icy cold vodka in an ice bar (see the picture! Brr!); on top of that, I just found out that I won the Lotto facebook competition for an all-expenses-paid trip to New York!
I turn 21 this year so I'm really excited to celebrate in style with business class flights, 4 nights in Soho, NY (the travel agent was flexible, so we managed to get another night into the budget by opting for a boutique hotel!), a makeover at Bloomingdales and £1000 spending money. I can't wait to see where else in the world my new favourite hobby can take me (Andrew has been pushing for Barbados next!).