By Tina Holmes on Mon, 2012-02-06 12:01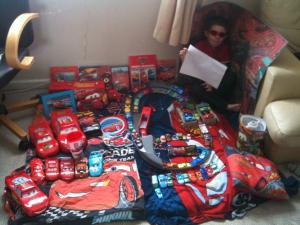 MadeForMums on Facebook was looking for the Cars biggest fan. You had to send a photo to their wall with your child and their Cars collection. They were so delighted with the response they gave away a second runner up prize. Raiden didn't come first but he was the runner up, Cars 2 Lego.
Raiden has really started to get into Lego while he's been off school, so we decided to wrap it up for Christmas so he can have an extra pressie. He's been a huge fan of Cars since he was about 11 months old. I was amazed when the Lego came as it was one of the huge sets worth about £50.
Here is Raiden with his huge collection & the winning Photo! He decided to draw a picture of Lighting Mcqueen too. Clever boy.