By Nicola on Fri, 2010-02-12 17:05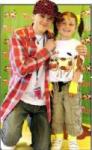 "After seeing the competition on ThePrizeFinder.com, my daughter Abbie who is only 5 wrote a song for Paula the cow yoghurt. Her first win was at the semi-finals where she was awarded a goody bag and a games console wih a High School Musical game. The final was at Legoland Windsor and judged by George Sampson.
After singing and dancing her little heart out she went on to be judged the winner and we went on a family 5* holiday to Egypt with £400 spending money. A great win - other then me falling over on day 2 of the holiday and breaking my wrist - totally sober as well! I'll have to get back to the comps and win another holiday to make up for it!"