By Soosieboo on Thu, 2012-04-12 20:15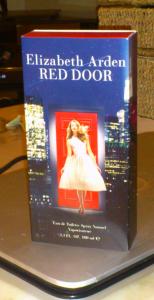 I have a reminder set up to enter some competitions. One of them is the Debenhams Beauty Club on facebook. A couple of weeks ago the prize was Elizabeth Arden Red Door. I filled in the form as usual. A few days later I had an email to say I had won!
I had no idea what it smelled like or whether I'd like it!
It came yesterday and I hurriedly opened the box. Oops it was a bit strong... but after the initial blast it settles into a lovely long lasting fragrance. It's a bit woody and flowery, hints of ylang ylang that takes me back to my youth!!
It's a lovely fragrance for special occasions.