By Susan on Fri, 2010-02-12 14:42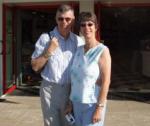 "Every morning after breakfast I log onto ThePrizeFinder.com and enter all the competitions I'd like to win. I've won lots of small prizes but in June I had the most wonderful surprise. The month started with a £10 voucher to spend at Poundland, followed by £50 in vouchers to spend at Lakeside and then a bottle of perfume from Lancome.



However, the best prize came in the shape of a Red Letter Day from Samsung Cameras. I had been out for the morning and came home to find a box sticking out of the letterbox. I thought it was another book or DVD but it was a Red Letter Day box containing a Gold Value certificate worth £1000! I scanned the brochure and then the website to see what I could have - should it be a luxury hotel stay or maybe a trip on the Orient Express?



At the end of the list was a Sony 40'' HD-ready plasma TV and I thought this would be more lasting than a quick trip somewhere. I ordered it immediately and it arrived the following week - my husband can't wait for football season!



It is all thanks to ThePrizeFinder.com and this morning I logged in and entered more competitions - you never know what surprise is round the corner."