NOTICE
We're now continuing to add competitions as normal but we will be carrying out an upgrade on ThePrizeFinder on Wednesday. The competitions that you enter before Wednesday might not be tracked. Sorry for any inconvenience.
By David Fuentes on Tue, 2012-01-17 17:21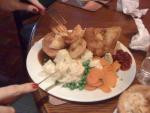 I have been entering comps now for a few years and have won a selection of wonderful prizes with theprizefinder.com being my go to directory for fabulous prizes both big and small.
I entered a Toby Carvery comp on theprizefinder.com and won!! :-) I was treated to a family meal for 4 at my local Toby Carvery, upto the value of £50, lovely jubbly.