By Christine Reid on Sun, 2011-12-18 00:37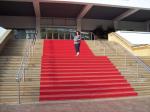 I have been entering competitions for many years and have used a few different sites. I am finding the new layout at ThePrizefinder really usefull, the skill-based competitions are all together which is great. As for prizes, I went to Cannes in October for 5 days with £500 spending money. This was a win from a radio station in the Horrible Bosses competition. I won an iPhone4 from a daily comp, pottery from a blog, and a photobook for a review. That`s since September. In the last three years I have won a VIP trip to Wimbledon, bikes x 5, £1000 vouchers from the local shopping centre, VIP trip to Jools Holland, numerous theatre tickets, a camera, £100 Matches voucher and a family Merlin card. Also lots of small prizes like books and CDs.
I am now trying to venture into the world of twitter and facebook competitions and this is alien territory for me. I am being guided by the Superlucky Di advice and hope to even try a Receipe comp. Comping is a great hobby and as I like photography and writing it gives me somewhere to channel those photos.