NOTICE
We're now continuing to add competitions as normal but we will be carrying out an upgrade on ThePrizeFinder on Wednesday. The competitions that you enter before Wednesday might not be tracked. Sorry for any inconvenience.
By Sarah on Fri, 2010-02-12 16:04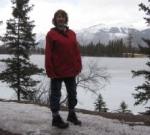 "Six years ago one of my sons informed me he had won a competition on the net. I was initially scornful thinking it would be a scam but he had actually won 4 Disney DVDs. The following week he won tickets to the Leeds Festival. He introduced me to the ThePrizeFinder.com site and I've been hooked ever since. I enter competitions every night after work and over the years I've won many prizes. These include DVDs, books, toys, concert tickets, a patio set, gardening tools vouchers for clothes stores, hampers and bottles of wine.
Whilst I welcomed the prizes I often wished I could win something substantial. Two years ago my wishes were granted when I won a holiday to Canada for four people. It was absolutely brilliant and the best experience of my life. I would never have gone there had I not won the holiday. Many of my friends and colleagues have started entering competitions through ThePrizeFinder.com but they tend to give up if they haven't won anything within a few weeks. Remember perseverance pays. My luck continues to hold with a DS and game arriving last week."