By Irene Murdoch on Mon, 2011-10-24 11:58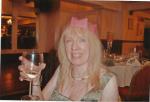 I wanted to tell you how pleased I am with The prizefinder.com.
I have only had broadband at home for two months and have started entering competitions every day.
This month, I have won a £500 chandelier found in a Period Living comp in the Closing Soon section. It was made especially for me and hand delivered - all I need now is to win a big house to do it justice! On the same day that it arrived I won 2 cinema tickets and 2 bowling tickets too.
I have always liked entering competitions, and have had some good wins in the past, such as Le Creuset cookware which was also through Prizefinder, a set of golf clubs and a year's supply of Dove and Pantene.
Even small prizes give you a thrill when the package drops through the door and the old saying- 'you have to be in it to win it' is very true and I would like to say to everyone that ordinary folk do win so keep trying!