NOTICE
We're now continuing to add competitions as normal but we will be carrying out an upgrade on ThePrizeFinder on Wednesday. The competitions that you enter before Wednesday might not be tracked. Sorry for any inconvenience.
By Karen on Fri, 2010-02-12 13:02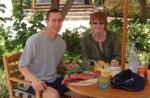 Logging on to ThePrizeFinder.com can take you further away from your PC than you'd ever imagine. ThePrizeFinder.com comper Karen, used the site to enter a Classic FM competition and found she'd won a luxurious break to the Middle East.
Karen says; "This is myself and my husband sat at the pool bar at the Ritz Carlton Hotel in Dubai, a competition win from Classic FM, found on ThePrizeFinder. Karl and I had 3 days of complete luxury, thanks to ThePrizeFinder.com"