By Deborah on Fri, 2010-02-12 17:01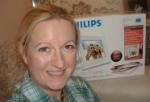 "During hard times with money and household products breaking down, I started to enter competitions. Through this I found ThePrizeFinder.com. From then on I only ever needed to use this site due to its vast number and range of competitions.



Within a few weeks of trying I received an email saying I had won a digital photo frame. My instant thought was "What's the catch?", but there wasn't one. I received it through the post brand new. It came at a really good time too, it was my mum and dad's ruby anniversary and I had no idea what to get them for a present. I thought the frame would be an ideal present where they can store and view pictures of their trip of a lifetime they went on to celebrate.



Winning a prize has made me more eager to enter competitions on a daily basis and I can't wait to check my mail box for any winnings. Thanks to ThePrizeFinder.com."