By Teresa P on Fri, 2010-09-03 12:19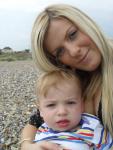 I have been a member of ThePrizeFinder for a while now and it's a fun way to spend my spare time whilst my son's tucked up in bed. We have won concert tickets and make up and I received an e-mail yesterday to say I had won some super dooper sunglasses .....Can't wait to take them on holiday with us at the end of the year!
Overall ThePrizeFinder is a great place to spend free time and I have also found some fantastic websites through entering the competitions, websites I never would have found unless entering the comps through ThePrizefinder.