By Jane Easthope on Wed, 2012-08-15 14:37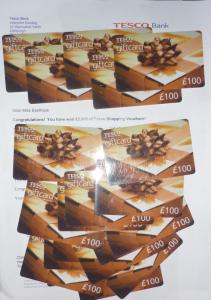 I've been comping for over a decade with ThePrizefinder. I had a fair bit of success to start with, winning two lots of festival tickets and a mobile phone back in 2001. But then everyone got on-line and comping became much more popular, and the wins really dried up. Nowadays I'm quite busy with other things so I concentrate my entries on big prizes that I really want, like holidays, cars and cash.
Then last week whilst I was in Tesco my mother phoned me, excitedly telling me that I'd won a prize of £2000 Tesco shopping. When I phoned them back I was very cautious that it might be a scam and the girl on the phone was a bit miffed that I wasn't estatic! On Friday the prize finally arrived. I'm going to try to not fritter it away and will perhaps get something useful like a laptop for my Open University studies.