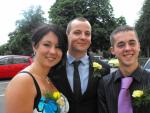 Winner's Name
Carla addiscott
I started to enter comps about 3 months ago, mainly using Theprizefinder. Since I started, I have won many competitions including meeting LMFAO, a signed Example sampler album, Blu ray films, T-shirts and sweets. The best thing I have won since entering has been the chance to be the face of a nationwide advertisment campagain.
I am a housewife and entering comps is more than a hobby now! Times are hard and everything I have won has gone to a good home, and we are thankful.
Theprizefinder has given us so much, I would like to encourage anyone new to this site to keep at it. You will soon find you're on a roll!