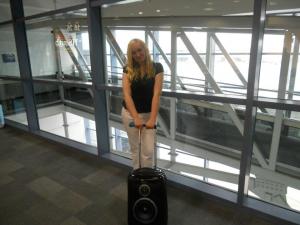 Winner's Name
Hayley Deakin
In January I had sorted out my holiday early for May, so started looking for competitions for luggage.
One caught my eye on Facebook in April, where they had 3 prizes on offer. 1 was a carry-on case, 2nd prize was a rucksack and 3rd was a purse. I liked the look of the carry on case so I entered and shared and thought nothing of it.
A week later, I got a private message to say out of over 700 entries, I was the 1st prize winner. Imagine my joy when I was told I could pick a carry on case of my choice, worth £120!
I decided to choose one that looked like a speaker as my boyfriend is a dj and it would suit us both if we used it.
At the end of May I took my holiday and made sure to get a picture of myself with the case at the airport. I had so many compliments from people saying they loved the design.
Once I got home, I shared my picture with the company page and thanked them. As a thanks for showing them my win, I got a 15% discount code!