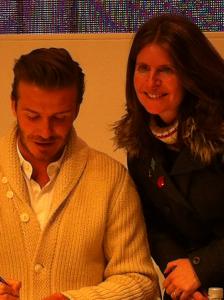 I have been comping for three years now and have been really lucky with some great wins.
I never had a hobby as a child and stumbled across comping quite by accident late one night when my kids were misbehaving and I was surfing the net. I entered a comp on the Prizefinder to go to a Sugababes concert and received a call the next day to say that I had won and could bring a guest to the Xbox launch party.
My son came with me and couldnt believe his luck as we had been sat on the stage when they came out. The girls were so close he could touch them (if he wanted) and it was like a private gig.
Well I was hooked. Friends often ask what the best thing I have won is. It is so hard too say. Today was definitely top of my list - I met David Beckham.
Comping brings opportunities to take part in experiences that money couldn't buy. I would recommend it as a hobby and am always delighted to hear when one of my friends wins too.