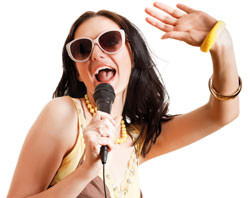 As you will have read through the guide – most creative and skill-based competitions are really easy if you take a few minutes to prepare. The winning criteria are based on creativity and the idea rather than on any rare ability.
Design competitions feature heavily in the 'other' category. These also, do not need skills that would make architect knees shake – you just need a good idea – and an open-minded approach. Singing competitions or art competitions work on the same basis – show you are having fun entering the competition!
Most of the information contained in the other sections will help you win the more obscure creative competitions – if you see a 'create a recipe' competitions, you could draw on photography and writing skills. Similarly, photographic composition could help you win a design a t-shirt competition. You can use the writing guide to remind you to use the note section of your phone to keep flashes of inspiration to hand. Don't get too bogged down in seriousness and technical matters though – let your idea shine through.
Mentioning promoters is never a bad thing – also, playing upon the emotions will rarely go against you. If you can see a new angle somewhere, don't waste it!
Not winning these competitions isn't failure – it doesn't mean that you are rubbish at being creative – just as not winning every prize draw doesn't mean you shouldn't do prize draw competitions. The odds of you winning at some point are higher because creative competitions have fewer entries – so you get higher odds of winning!
If you want to try something different, but are hesitant – zoom out for a second - a brief look through the Internet will throw up all kinds of helpful information. There is always an easy way and shortcuts. Phone applications are tailored to help ease technical problems and allow you the freedom to create harder and faster.
You can ask the community at PrizeFinder who are always wiling to help, and if we don't know, we will find out for you!
Creativity is like a muscle - the more creative you are, the more creative you will become! The more you start having ideas, the more the ideas will come! Remember:
It ain't what you win - it's the way that you win it!
View all other creative competitions
More beginners guides to creative competitions