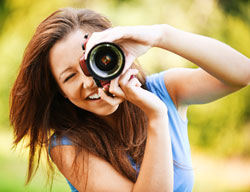 This guide will give you tips and advice on how to win and enter photography competitions in the UK. Social media is a visual place, and promoters love to run a photography competition. For your visual amusement, using the powers of acrostic – we have collected all the winning photography competition tips you will ever need into the word: BEST LOVED CRAFT!
B is for Background – Taking care of the background of your photograph is important because the eye naturally wanders. Domestic settings need to be clean and tidy, and no odd behavior should detract from the focus of your picture.
E is for Early Entry – Get in early. Most people enter towards the deadline and it would be a shame for your brilliant photograph to be lost in the closing date deluge.
S is for Stick to the Topic – Promoters want to see that you are listening. A photograph that hints towards a theme is not going to win because other entrants might argue. Make your theme obvious.
T is for Thirds – It is instinctual to place the object in the centre of your picture, but everyone does that, and it is a mark of an amateur. Turning your gridlines on and lining your subject on the intersection lines achieves an artist take and will stand out from the crowd. Your focal point should be a third of the way in from the frame.
L is for Lighting – Many photography sites advise you to take pictures on a cloudy day to avoid glare. However, if you are out on a sunny day, ensure the light is behind you. If you are taking pictures of people, do this at an angle if the sun is too bright – squinting frowns will not achieve a good shot!
O is for Ownership – Read the terms and conditions – if you enter a competition, the likelihood that your photo becomes the property of the promoter is high - particularly if it contains their product. It is a good idea to feature the promoter's product in your shot, but you will not then be able to reuse it for another competition. You need to decide what is right for you for each competition.
V is for Volume – when taking photographs, take large volumes. Digital and phone cameras have a large storage capacity, there is no risk attached by deleting the less satisfactory ones – and you might make an astonishing fluke of genius!
E is for Exciting – Your photograph needs to stand out. The more excitement you can pack in the better. Action shots are very exciting, and a good tripod or a steady hand will ensure you get the sharpest picture. Be hilarious!
D is for Dress Up – Seasonal photograph competitions are popular, so where is the harm in visiting a costume hire shop! Bring a box of sweets and a bunch of flowers and charm your way into the owner agreeing that you and a friend can try on outfits in the store and take photos! Other than that – take lots of photos and make all your birthdays into a fancy dress theme – you never know when they will come in handy!
C is for Colour – Look online for popular contrasts. On a colour wheel, red contrasted with green and blue contrasted with yellow makes a big statement. Look at advertising logos. Companies spend a fortune on designer knowledge – trust that they know about colour and bear it in mind when you are taking your shots.
R is for Rules – Rules such as file sizes and specifications may sound boring, but they are essential. If your photo is too large or small, or in the wrong dimensions: all your hard work will come to nothing! All information is contained in the terms and conditions.
A is for Attractions and Avoiding Clichés – Public attractions are useful for the more exciting shots. Theme photograph competitions are always looking for a powerful image that captures the theme completely – so keep a look out for local festivals and public attractions – they could win you big prizes! Avoiding clichés is important because lazy, uncreative entrants will enter the same kind of image. Think outside the box while keeping the topic in the forefront of your mind.
F is for Foreground – Several professional photographers argue that landscape pictures can be dramatically improved with an interesting foreground. The eye usually sees the picture from the bottom up so an unusual rabbit hole or a gate will make that mountain look all the more splendid as well as adding something different to your shot.
T is for Tale – If a picture paints a thousand words, then a photo can do the same. Emotions are captured well through photography. The whole effect of your composition might want to comment without words; perhaps an elderly lady looking at face cream or a politician buying a newspaper. Telling stories through pictures is a great way to show the promoter that you have put a lot of thought into the work, and that same thought might give you an edge.
! is for exclamation! If someone says WOW – that photo is in with a great chance of winning. If it makes someone laugh – then it might make the promoter laugh. There is no accounting for taste, and nothing is guaranteed, but raising a WOW is a definite indication that your photo is not boring.
Good luck – remember BEST LOVED CRAFT the next time you are taking photos!
View all photography competitions
More beginners guides to creative competitions