Hello everyone!  How was your weekend, any nice wins to report?  A few little wins this week of a surprise Gatorade water bottle in the post as a runners' up prize in their monthly draw, another two Goodreads books and a bottle of Ecover washing up liquid form a facebook comp that a friend tagged me in on for us both to win.  I don't know about you but I have seen tons of Christmas competitions cropping up this last week or so, far more and far earlier than I remember them last year.  I don't even seem to be finding as many Halloween comps as I would expect for his time of year; it is like we have jumped straight to Christmas, do not pass "Go" do not collect £200!  Not that I am complaining though as I am a huge Christmas fan, so the sooner the better for me!
I think this time of year is pretty slow in terms of comp wins though traditionally, as it isn't summer anymore but the festive season isn't upon us either.  I am finding I am spreading my comping out a bit more again at the moment, in the hopes of winning some prizes from sources I don't normally win from.  I like to try different social media comps on Facebook, Twitter, Instagram and Twitter, as well as email, photo comps, online draws and postcard entries.  One competition entry method that you may not be aware of though is WAMO – if you aren't familiar with this fun little app let's take a look:
What is Wamo?
Wamo is an app for your iOS or Android tablet or smartphone that allows you to capture images that you love, hate, want or need and add them to specific lists within the app and even share them with your chums. 
The app works a little like Instagram & Pinterest that you could grab images from websites or you can upload your own from your camera roll. 
The app also offers lots of great competitions, offering great prizes such as £50 vouchers, tech goodies and fashion pieces from top brands – that's where the fun comes in.
Entering Wamo Competitions:
Start by downloading the app from the Apple App Store of from Google Play and install it on your chosen device.
You will need to set up your profile, including a photograph, email and bio before you can start winning prizes.
Once you are all set up click on the crown symbol in the bottom menu bar and you will be taken to the "Challenges" section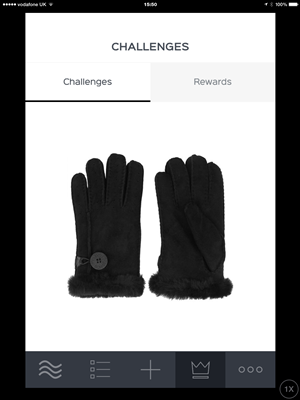 Challenges are listed from current to upcoming, so work from the top of the list and then scroll down to see what is coming up soon. 
Click on the photo attached to a challenge to find out what is involved.  Sometimes you will be asked to choose just one of your favourite images or looks from a specific website, or sometimes the challenge may be more in depth like uploading your own photo to a list or finding a specific object on a website.
Once you know what you are looking for click the "enter challenge" button or "continue challenge" if you have clicked into it and then clicked back into the menu and you will be taken to the website that the promoter wants you to visit.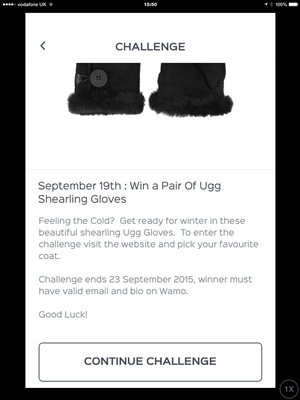 Browse the site to find something that grabs your attention, or to find the specific object that is asked for and click on your preferred image. 
Once you have an image or a product in mind click the "+" button on the bottom menu bar and you will be shown a list of available images to grab and add to your challenge list.  Select the correct one and then fill in the add item form, specifying how you feel about the product and maybe adding a comment in the description box if the challenge has asked for it.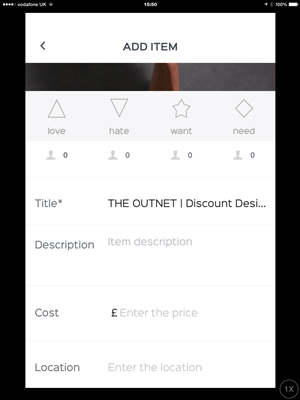 Once you are done the app will choose the correct list to add it to automatically, so you can then click "Save item" and complete the challenge.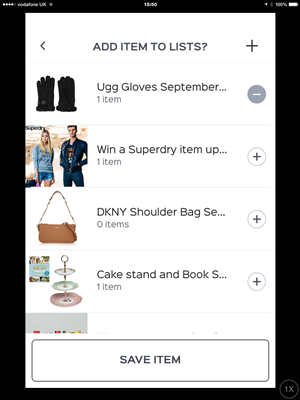 If you need to enter your own photo to complete a challenge then click the "enter challenge" button but then head back to the main menu.  Click the "+" button and you will be able to choose a photo from your own camera roll, or take a photo there and then.  You will need to manually choose which list to add the photo to complete the challenge, and remember to fill in the title and description in the "Add photo" form.
Usually challenges only require you to enter one photo to take part, but make sure you read all the rules before you join in.
If you are successful in winning you will receive a message in the "Rewards" tab of your Challenges section – I am yet to win one so could not take a screenshot, but I am reliably informed it shows up there!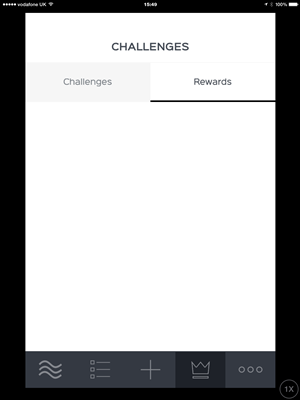 Sometimes a challenge will reward all participants with a special discount code just for taking part, and this will be in your "Rewards" tab too.
As I say, I haven't actually managed to win a Wamo comp yet but new challenges seem to be added every day so make sure you check back regularly.  Also check your Rewards tab every time you log on, as you only get a limited amount of time to claim your prize if you do win, so make sure you don't miss out!
Let me know how you get on and if you manage to win!
Happy comping (and reading) everyone and lots of Lucky dust to you all!
Kirsty x
Comments
Hi.... I won on WAMO after just trying it for a week after a recommendation from SuperLucky Di's blog. Quick to download & good for comping on the go! I didn't receive any notification in the rewards box but received a lovely WEM instead so make sure you enter your correct details and complete the bio. The prize arrived within days. I would definitely recommend to give it a try. Happy comping!!
Brilliant! Thanks for the tip x