Hello everyone!  I can't believe it is almost June already!  The last half term of the school year is upon us, the weather is improving (slowly!) and Summer is just around the corner!  At this time of year we need to be super-organised with our comping hobby, and here at The PrizeFinder we offer some fab tools to help you!  In this blog we will be revisiting how to use the "Customise Listings" feature for all registered users.
To access the "Customise Listings" section of the website, you need to be logged into your account - once you are, you will see a blue box on the top right of the screen, next to the "My Account" button.  From the Customise listings section, you can easily tell The PrizeFinder how you would like your competition listings displayed.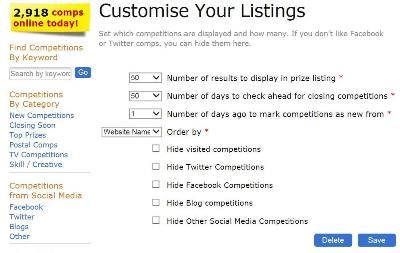 First off, you can specify how many results to display in each page of your prize listings – ranging from 10-50.  Some people like a long list of prizes to enter all in one go, giving them fewer pages to work through overall.  Others like to have lost of short pages to work through in smaller, bite-sized chunks.  The choice is yours!
Next, you can customise how many days you ask The PrizeFinder to look ahead for Competitions closing.  This means you can see at a glance which competitions close on which date.  For me, this allows me to manage my time better – I like to enter competitions as close to closing as possible, and if I can see in advance that a specific date has more comps closing than another (usually at the end of a calendar month) then I will manage my time to make sure I have extra comping time on or around that date.  Again, you can specify a range of between 10-50 days ahead.  Some people like to see a long time range in advance, others like to concentrate on a week or so in advance – all down to personal preference again.
The next drop-down menu specifies how long ago to mark a competition as "New" from.  If you are checking the site every day then this is probably best left as "1", as you can see the new comps that have been added since yesterday.  However, if you only get on every few days, you can change this to suit how often you access the site.
The next drop-down tells The PrizeFinder how you like your listings ordered – by date added, closing date, alphabetically by website name or by prize. This is useful when you are browsing prize categories, such as Home & Garden or Holidays and, for example, you want to enter all the competitions hosted on a certain website in one go.  Similarly if you want to enter all the comps ending on a particular date in a sub-category (e.g. holidays, or kids & toys), then you can organise your listings to help you.
Underneath these drop-down menus is our range of tick boxes.  Firstly, once you have visited a competition website, and either entered it or ruled out the comp as something you want to enter, then if you have the first tick box ticked The PrizeFinder will hide this particular comp, and all others you have visited, from your listings the next time you refresh. 
Our latest tick boxes allow you to customise your listings even further!  Now you can choose to filter out and hide from your listings any comps where you need Facebook or Twitter, or where you need to enter via a blog or some other social media platform such as Pinterest or Instagram.  This saves you heaps of time trawling through your listings and manually ignoring the competitions you aren't interested in entering – The PrizeFinder does all the hard work for you!
So there you have it, all the tools you could possibly need to customise your competition listings, to allow you to make the most of your comping time and get the best results!
Do let us know if there are other customisations you would like to see considered – we love to hear from you!
Happy comping and lots of lucky dust to you al!
Kirsty x