These days it is almost impossible to go through a day without seeing a business advertising their Facebook page, their Twitter feed, their blog or their boards on Pinterest.  Have you taken the plunge into the social media world yet?  As a comper, these are amazing sources of competitions!  Personally I have had great luck with blogs, Facebook and Twitter comps, and I am doing more Pinterest comps now too and I live in hopes of a nice win!
Both Facebook and Twitter comps are usually quite straightforward and quick to complete – just a Like & Comment on a post on Facebook, and a Follow & Retweet on Twitter.  Blog entries can range from something as simple as liking the blog on Facebook and Twitter, to a whole host of extra entry routes such as adding them to your Google+ circles or your Bloglovin feed.  Pinterest can be more labour intensive (creating a board, adding some relevant images, adding a hashtag and informing the promoter), but the entry numbers are still usually really low, so the odds of winning something nice is much better.
So, having heard all this, you will be pleased to hear that at The Prizefinder we have changed our Home Page Competition Listing Layout slightly, to make it even easier for you to find all the best and latest Social Media competitions.  On the Front Page, underneath the Prizes by category menu, you will now see all the Facebook, Twitter, blog and other (Pinterest, Instagram etc) comps all split out for you – ready to dive into and become a social media comping butterfly!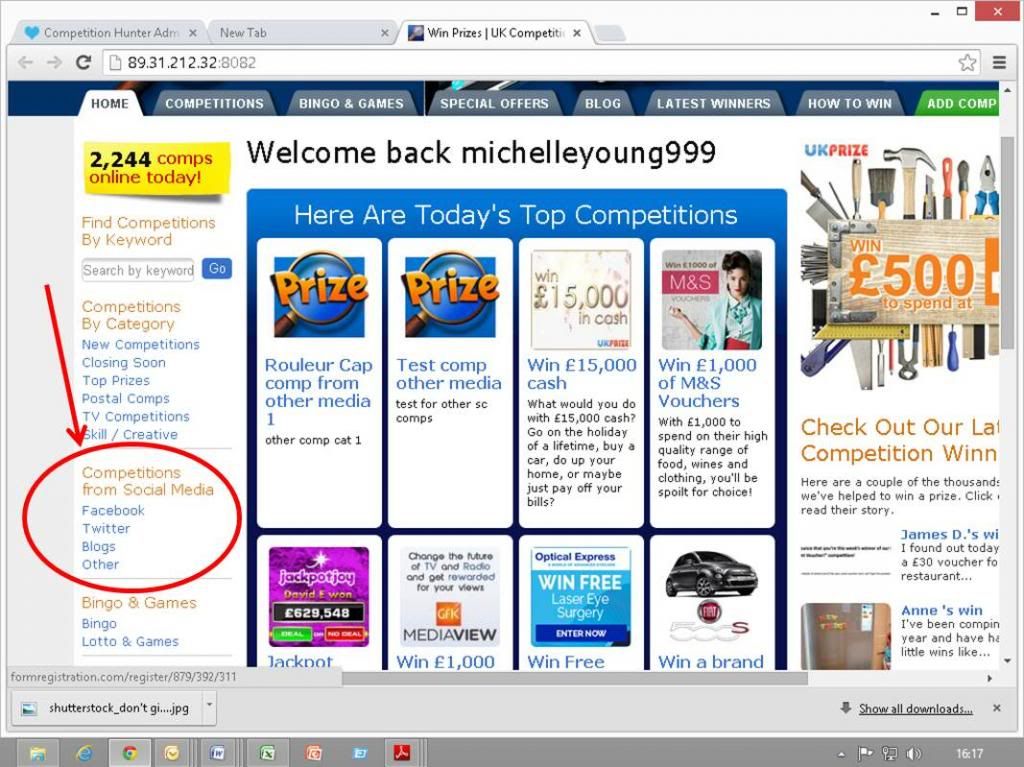 If you decide you don't wamt to be entering spcial media competitions at all, The Przefinder have also made it very easy for you to switch them off, so they won't clog up your competition listings.  If you are logged in with your username and password, click on "Customise listings", and here you can tick to ignore certain types of competitions - Twitter, Facebook, Blog or other.  Once you have saved your requirements, these competitions will then be hidden from your competition listings.  You can always go back in and untick these categories, should you want to focus on social media comps at a later stage.
We also have a BRAND NEW Pinterest presence for you to browse as well!  To get involved with this you need to pop along to our Pinterest page, follow us and have a look around our boards.  Here you have access to a plethora of boards ranging from all our useful hints & tips blogs that we have published, a chance to see what some of our readers have been winning, some inspiration for prizes you might like to win and of course access to loads of current Pinterest competitions for you to enter, and instructions on how each one works.
So what are you waiting for, head along to The Prizefinder website and check out the new Social Media competitions categories.  And when you are done there head over to Pinterest and follow us there, to make sure you are kept up to date with the best Pinterest comps too!
Happy comping everyone, and lots of Lucky Dust to you all!
Kirsty x