Hello again happy compers!  Only one more week left of August now – can you believe it?  I am on the final countdown to the end of the school holidays now.  All items of uniform have been ironed and labelled, along with shoes, lunchboxes, lunch pots and bags.  Pencil cases have been emptied and refilled with gleaming new pencils, rubbers and sharpeners – we are almost ready!  We are away visiting relatives on the mainland from Wednesday this week, and won't be back until late Sunday, so we won't have much time to get organised before school next week.  Last minute haircuts are booked for Tuesday next week, and there will be the obligatory last visit to the library to take books back and collect medals for completing the summer reading challenge.  Only seems like yesterday that it was mid-July and we were all excited about the start of summer!  Ah well, quite glad at the thought of routines and early nights becoming the order of the day again - and getting back into some serious comping too!  What have been your summer highlights?  Probably Cowes week for me – relatives visiting and plenty of live music, drinks and dancing watching the amazing array of boats that arrive in Cowes over the summer months. 
Here at The PrizeFinder we have been getting organised as well!  One of the items that came out of our recent member consultations, asking for your comments on what you would like to see changed on the website, we have made an alteration to the way we list holiday competitions.  Members asked if it would be possible to split out holidays into short breaks, and longer holidays – well, yes it is, and that's just what we have done!  Now when you visit the site, on the left-hand side where you see the prize categories listed, you will see the usual "Holidays", but it has now been joined by "Short Breaks".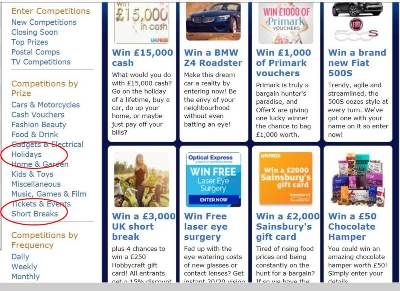 When we add competitions to the website we class prize holidays of 1-3 nights as a "Short Break", and anything 4 nights over as a "Holiday".  This will hopefully give you another tool to use when searching for your ideal prizes.  For example, if you or your family members work shifts, you are unlikely to be able to use a 10 night holiday if you won one, so you may want to just focus on entering short break holiday competitions.  Likewise, if you are looking to win that ever elusive family, all-inclusive 1 week holiday, you can ignore all the short 1-3 night holidays that are listed, and focus solely on the longer ones.
We hope you find this change to the site useful, please do let us know what you think.  Do let us know what other things you would like to see amended on the site too – we love to hear your comments.  After all, it is your site, let's try and make it the most useful, helpful site it can be, so we all get some lovely prize wins!
Happy comping and lots of Lucky Dust to you all!
Kirsty x
Comments
As I go through everything using the Closing Soon option, that doesn't affect or help me. However, what would be useful is something which I have asked for before, the ability to filter out daily competitions! It would also be extremely useful to be able to filter out certain companies/websites, as some are far too intrusive and I will never use them, so seeing and having to work my way past them over and over again each month is a real pain! Any chance of either of these options being implemented?
Thanks for the suggestions, I will pass them on!
I know I'm coming to this particular conversation a bit late but I too only use the Closing Soon list on the site and so more powerful ways of filtering this list would be welcome. EBay is fantastic for being able to apply loads of filters to a list and I'd like to see that sort of thing on this site. I agree with the above poster that there are some sites I would never enter through like getmeaticket and I would love to be able to 'ignore all from this website' etc perhaps permanently as part of my profile rather than having to filter each time. Then I would only have a list of promoters I would enter through and then just have to ignore actual prizes i don't want.