Hello everyone!  How was your week, any nice wins to report?  Just one more small one here – a 1L bottle of Ace Gentle Stain Remover from their instant win Facebook game.  Practical wins are always handy though, and with two small children we do get through a lot of stain remover, so all good!  Am really hoping a biggie win comes in soon though – the little wins keep us going and keep our mojo up, but a big win certainly does boost morale doesn't it.  Have you had any nice big wins so far this year?  My biggest so far is probably the 90:10 hoodie I won for my hubby, with the My Monkeys Don't Sit Still blog.  I had wanted to win him a nice hoodie for ages, so it was lovely to finally win him one.  It is worth about £40, more than we would usually spend on a hoodie, and he loves it too, so a very nice win all round.
In your time comping have you managed to win any of The Big Three comps – Cars, cash or holidays?    I have won some vouchers in the past, specifically £2,500 of John Lewis vouchers at the back end of 2013, but haven't been lucky enough to win a car or a holiday – more's the pity!  As some of you will know one of the best places to find big money and prize competitions, historically, has been ITV Competitions!  They run some amazing comps tied in with their TV programme such as This Morning, Deal or No Deal, Get Your Act Together, Loose Women, Good Morning Britain, Tipping Point and Dickinson's Real Deal.  It used to be that you could find the relevant answer to the weekly or monthly question and then enter it online – sometimes up to 5 times – for a chance of winning the big prize.  However, as you will probably be aware ITV competitions have gradually come offline, and have moved away from online entry towards phone, text and postal entry methods.  This being the case The PrizeFinder, being predominantly about free, online competitions, removed our original "TV Competitions" section of the site, and included any remaining online entry option competitions from ITV in the "Top Prizes" category of the website.  However, by popular demand I can confirm that that we have decided to reinstate the section containing ITV competitions, and will from now on include all entry methods within it, including postal, phone and text – hurrah!  You will find the new category on the left hand side of the main page, underneath the "Top Prizes" category in the menu.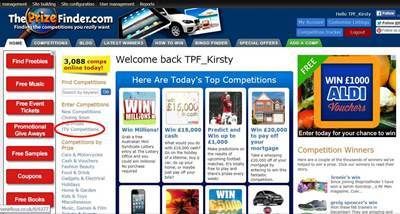 Even though the entry methods for these competitions are generally offline now, we didn't want to see our members missing out on being able to enter such fantastic, life changing prizes, so here they are!  The fact that the ITV competitions have mostly moved offline however means that it is no longer as easy to enter for these big bundle prizes as it once was, and requires a little more effort on our part.  There are of course now no "free" options for entering most of these competitions, as the phone entries cost around £1.54 from a BT landline and the txt costs are usually £1.50 plus standard rate,.  The cheapest option to enter now is by post, but this still requires the investment in postcards and stamps.  For every competition however The PrizeFinder will give you all the information you need to enter.  We will furnish you with the correct answers, phone numbers, text numbers and postal addresses, and also any additional information regarding the amount of entries each person can make.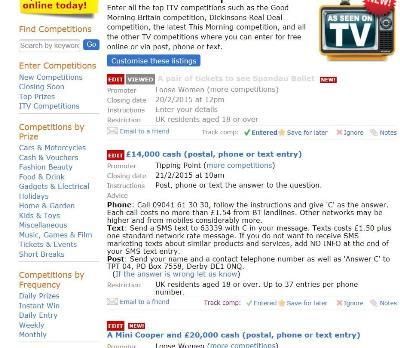 So, it may be that ts move by ITV competitions offline sees you dabble into the wonderful world of postal comping for the first time, or maybe you will decide to enter a number of them every month via phone or text, setting aside a certain amount to pay for it.  However you choose to enter, make sure you check the restrictions, requirements and closing dates before you enter – no point sending a postal entry postcard a day before the closing date!
The PrizeFinder will endeavour to add all the competitions being run by ITV, both online and offline, as often as they appear – as well as any other TV-tie in and TV hosted competitions too!  Hopefully this will mean that our members have a better chance of winning, by being able to find all the information in one place – for free!  Head over to the new ITV Competitions section now, to take a look at all the great prizes currently on offer.
Happy ITV comping everyone, and Lots of Lucky dust to you all!
Kirsty x