Hello everyone!  How was your weekend, any nice wins to report?  A few wins for me since we last spoke including three books from GoodReads, a set of Sylvanian Families playing cards from a twitter comp, a £50 Fayre & Square food voucher from Twitter and £25 John Lewis vouchers from a Twitter party.  All these are very useful prizes – the John Lewis voucher especially will go towards some nice shopping at Waitrose and my eldest daughter turns nine tomorrow and loves Sylvanian Families, so this will be a lovely extra gift when it arrives.  I have been off camping with the family for the first time this weekend – we all survived and actually had a really good time.  As much as I am trying to win us all a lovely holiday, camping has meant that we all get a much needed break from work and routine without costing the earth - it does mean I am always looking for camping competitions now though haha. 
I am a member of lots of different comping groups on social media, and there has been quite a lot of conversation recently about promoters running competitions unfairly.  Some promoters have recently been caught out choosing people they know personally as winners, extending or shortening closing deadlines and even openly excluding "compers" from entering altogether, as they only want "real customers" to enter.  It seems rather naïve of promoters to think that just because someone enters a competition that they then wouldn't go on to become a paying customer, or share the business with someone else who may become a paying customer.  Promoters not running competitions fairly is a real bug-bear of mine and I am always looking for new apps and widgets that I can recommend to them to use as a means of running a fair, thorough and legal competition.
I was recently introduced to the brand new contest software programme called Leadin!  With this brilliant new website widget promoters can easily create and run bespoke competitions and rewards using a fully-loaded, function-packed website.  If you own a blog or a small business and like to run regular competitions via your blog, website or Facebook page, Leadin could be a great package for you to use to create and manage them.  To find out what the software is all about head over to the Leadin website and watch some of the helpful instructional videos
As well as being able to add the usual blog comp entry methods, Leadin also allows you to add extra ones that are slightly more unusual – such as watch a video, subscribe on YouTube etc, which may engage your audience better than just answering questions or liking on social media.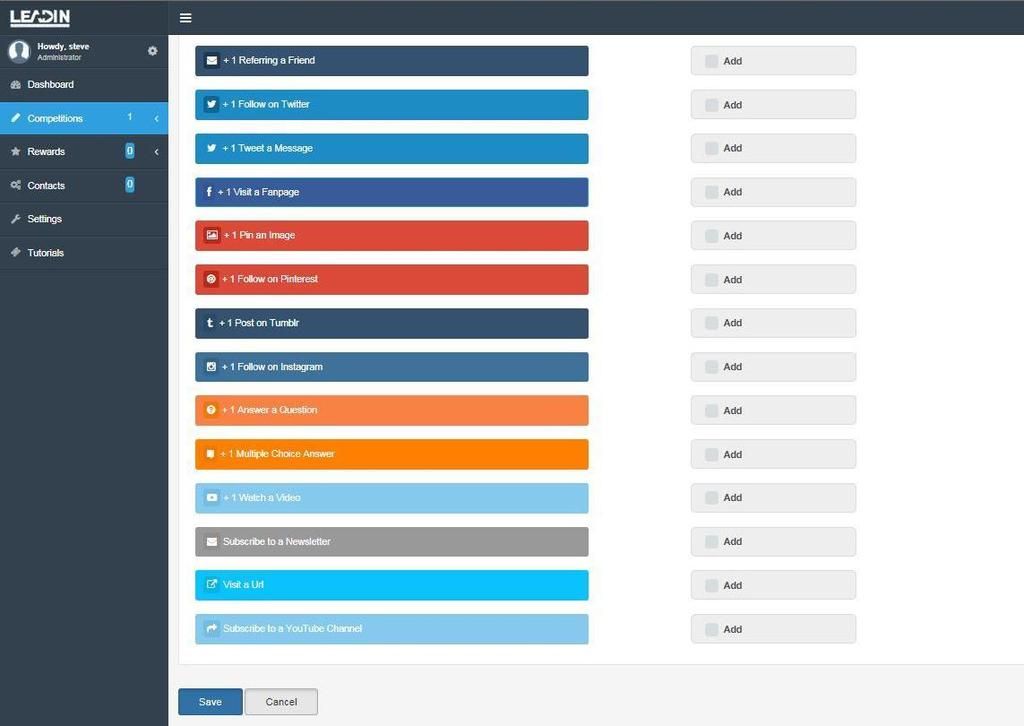 You can customise your competition layout to look however you like, using one of the preset basic templates that are included in the software, or by making your own bespoke, tailored layout however you wish.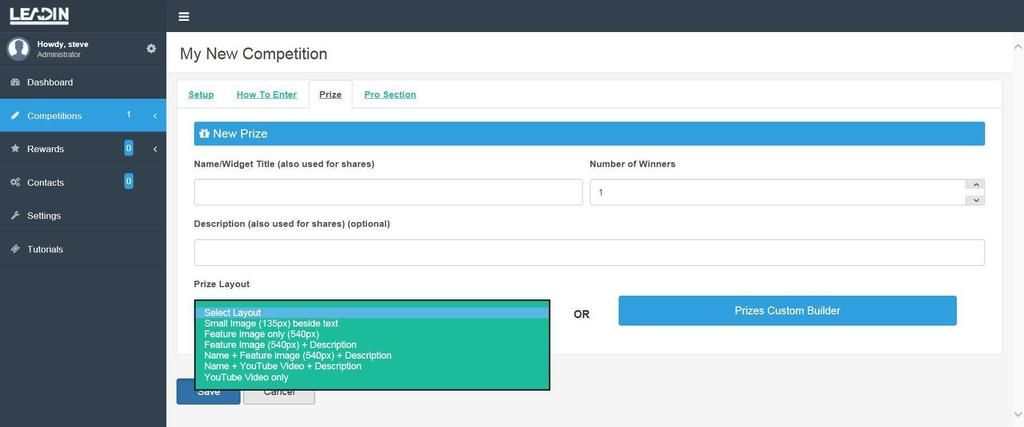 You can even add adverts into your comp listing, to increase revenue and leads even further.  The software automatically chooses a random winner at the end of the competition, meaning that the promotion can be shown to have been run fairly and legally. 
As well as running regular competitions the software also allows you to offer rewards to people who complete appropriate actions on your site.  Ask people to sign up to a newsletter for example, and in return you can send them a 25% off code for their first order – what a great way to lead people into your business. 
The user dashboard for the software offers you a great insight into the leads generated from your competitions and rewards over a period of time, so you can see which promotions have been most successful.
Leadin is brand new, launched just this week and we are offering PrizeFinder readers the opportunity to get a fantastic introductory offer when buying the package.  If you purchase Leadin via us during the launch week for the software today you will receive a Lifetime Subscription to the service for a heavily reduced, one time only price.  We also have an exclusive coupon code to give you an extra $10 off!   If you purchase before 27th July 2015 and use our special coupon code 'prizefinderspecial', you will pay just $37 for a lifetime subscription - what a bargain!  This offer is only valid for a limited time and the price will increase on 27th July to $87 for a lifetime subscription.  From 30th July onwards the software will revert to the non-discounted price of $27 per month or $197 per year on a recurring payment basis. 
If you run a lot of competitions, or would like to start running a lot of competitions, this is the software for you.  Head to Leadin today and find out all about how this great little package can help you, your blog and your business increase traffic, sales and revenue in no time!
Purchase Leadin now and pay just one subscription for LIFE!
Happy comping everyone, and lots of Lucky dust to you all!
Kirsty x