Hello everyone!  How was your weekend, any nice wins to report?  Just one small win for August so far of another Goodreads book – if I ever get half an hour to myself I am pretty much set for reading material!  To be fair the book I won this week is a signed edition that comes with a heritage pack of seeds too, so it might be better stashed away as a gift for Christmas.  How is August going for you, racking up the wins I hope!  Cowes Week started on the Island at the weekend, so we have been busy bunnies out and about soaking up the sun, watching the impressive yacht racing and listening to live music.  It was Family Day yesterday so we were treated to some extra family friendly activities and shows, which were all free and well worth attending.
When the sun is out there are of course more opportunities to be off doing other things rather than comping.  We love to be outside in the summer, especially as it seems so short in this country.  When you are spending less time comping it makes sense to try and organise the comping you do.  One way to do that is to make use of all the tools that social media offers, and in particular Facebook is full of easy, useful tools to help organise your comping time.
One of the latest additions to Facebook functionality that will be useful for compers is the "See First" function.  Facebook now gives you the ability to force certain pages' statuses to the top of your feed, regardless of how long ago they have appeared.  Any statuses that you haven't seen since last time you logged on will automatically show at the very top of your feed, meaning you miss less of those all-important comps and winners announcements!  To set up this function you need to click the company name to enter their timeline, hover over the "Liked" button and check the "See First" option under the "in your newsfeed" section.  If you can't see this you may need to check the "follow" option first, in order for it to be visible.
Now whenever this company adds a status, a competition for example, you will automatically see it at the top of your newsfeed, without having to scroll through.  Set this option up for The PrizeFinder now, so you never miss one of our helpful posts.  It might be worth writing yourself a short list of companies that you always enter competitions through as well, so you can do a mass "See First" session, adding all your most frequented pages to the top of your newsfeed.  Make sure not to add too many though or your timeline will get clogged again - try and be selective or it will lose its effectiveness.
While you are organising your Facebook comping you might also want to set up the "Get Notifications" ability for certain pages, including The PrizeFinder.  This function allows you to be notified every time certain companies update their status, add a new photo etc, meaning that you will never miss a post.  An alert will be sent to your "Notifications" section within Facebook, and to you mobile device too if you have tis set up.  To set this function up you need to go into the company's timeline again, hover over the "Liked" button and check the "Get Notifications" option.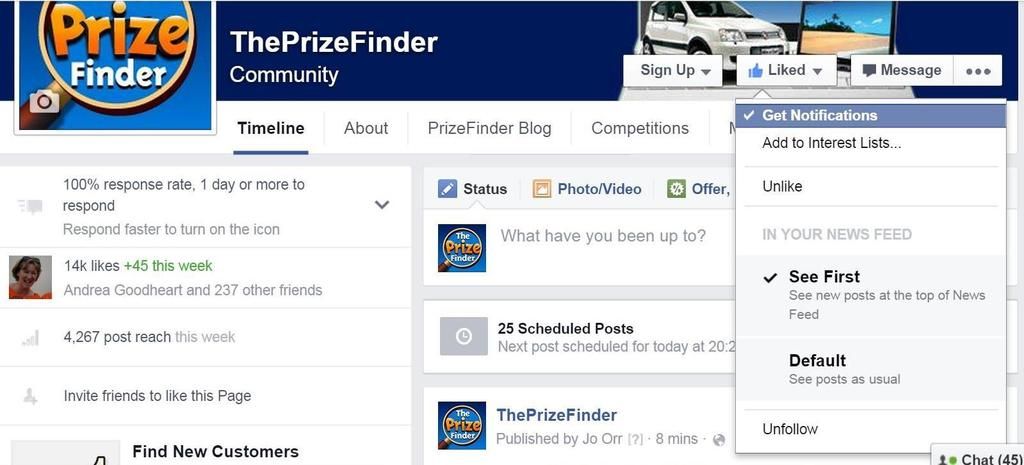 This is a useful feature to add to companies that are running competitions that you have entered.  If you really want to win a particular prize then set up notifications for the Facebook page, so you will be notified when a winner has been announced or a new competition added.
The new Facebook functionality that alerts you every time a company comments on their own status is really useful too.  Now when you have commented on a Facebook post, when the promoter either replies to it or adds their own comment (often announcing a winner) you will get an alert in your "Notifications" section.  This is a much easier way for us all to keep track of competition winners, but it does mean extra traffic in your Notifications folder.  Once a competition has ended, or you are not interested in following a company any more, then make sure to remove the check against "Ge Notifications", or you will always receive their status updates, filing up your notification feed, and taking your eyes away from more important or more relevant posts.
So, as you can see these new functions are a great way to keep on top of your Facebook comping, meaning that you will have more time to do all the other fun things that summer has to offer!
Happy comping everyone, and lots of Lucky dust to you all!
Kirsty x